80s sci-fi horror? Turns out there was a Stranger Things shaped hole in my life...
Okay, I'll admit. I only watched all three seasons from mid-June this year. You know me, I'm not one for jumping straight on the popular train. Turns out Stranger Things is completely deserving of its praise and totally up my street. Sci-fi / fantasy, teen nostalgia, mild horror, 80s fashion and music, and near-perfect storytelling; it's bold. Cinematic. Heartfelt. The scariest season yet but also, the funniest season yet? Season 3 definitely takes the crown for me. I can only dream of creating a show as accomplished as this.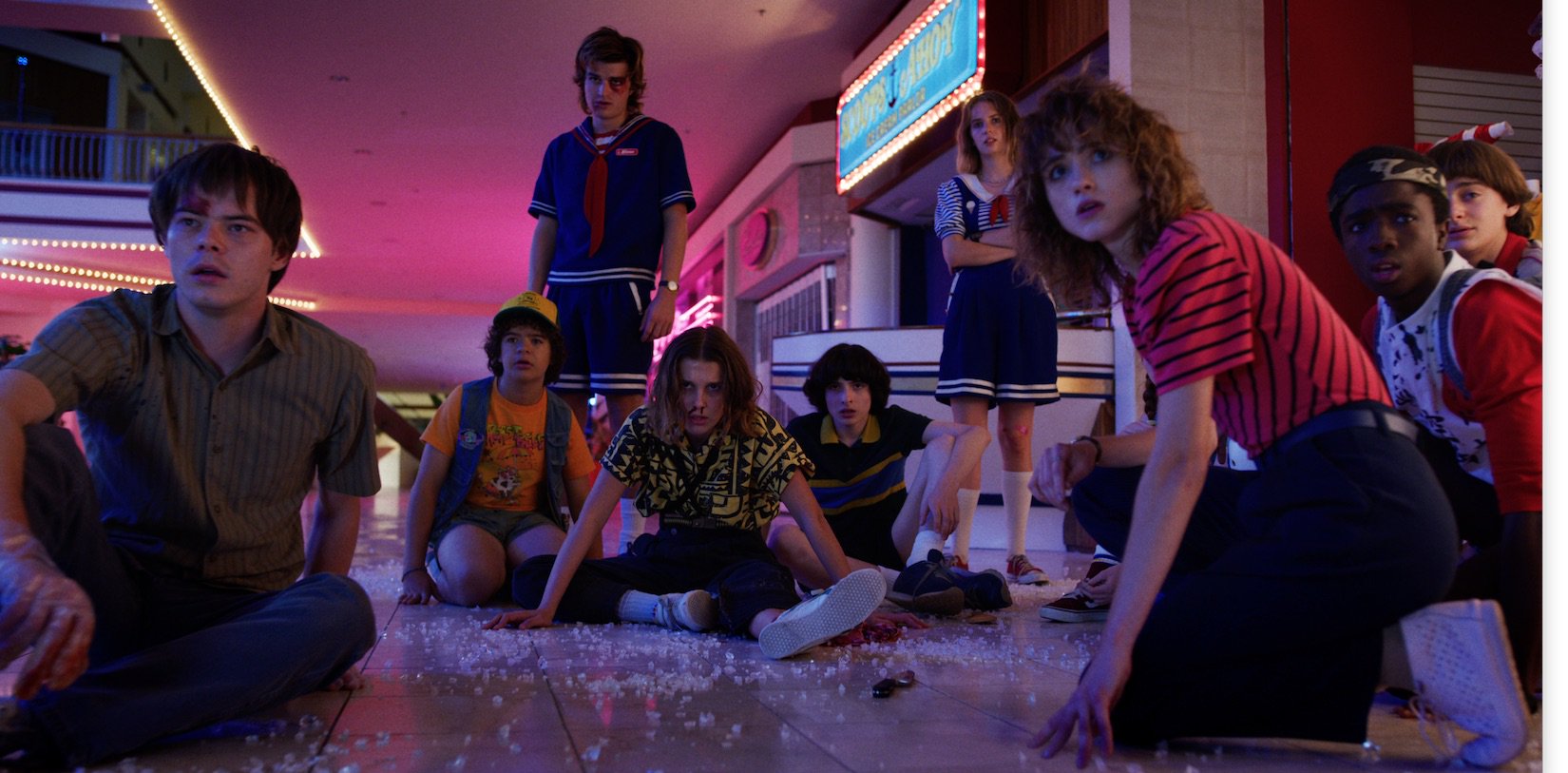 IMAGE: NETFLIX
Season 1 and 2.
A sure-fire recipe for success, season 1 takes us on a journey through Hawkins (and the upside-down) to find little Will Byers. The second season again takes this further, with a vengeful monster returning to plague poor Will once again. The series is built on a backbone of the classic Monster In The House story; it's simple, yet with enough creative flair to mark it out from the rest. But what really makes Stranger Things special is its characters. From classic archetypes such as Steve the Jock, the nerdy boy gang with Mike, Lucas and Dustin, and 'over-emotional' mum Joyce Byers, the Duffer Brothers utilise the hours of content per season to push and pull their characters in new ways, snubbing our preconceptions to ultimately lead to unexpected and brilliant revelations. Of course, season 3 is no different.
SEASON 3 HIGHLIGHTS
The Story Craft.
As a creative writing student, second-year taught me some of the key patterns in storytelling and boy, oh boy, does Stranger Things employ them – because they work EVERY. DANG. TIME. Not only is it jam-packed full of nerd references, foreshadowing and easter eggs, but that gripping first and last five minutes still keep you glued to the screen. Plus the continuing exploration of depth to their character development, relationships and world-building – with the most terrifying Mind-Flayer ever (that scene where everyone fell to their knees and melted tho) –
continue to raise the Stranger Things bar
to grow stronger with each season and leave us all desperate for more.
The Cast/Characters.
There are no weak players on this stage, sunshine. From the agent and kickass Joyce whose motherly protective instinct which used to be dismissed by her male counterparts, continues to be her intuitive strength that ultimately leads them to unravel the mystery; the blossoming friendship between Eleven and Max; plus, Steve 'mom' Harrington's entire arc – amirite? There's something for everyone in the diverse array of personalities that make the show all the more interesting with each remix.
The 80s Setting.
The time period definitely played a bigger role this season; the music, fashion, technology and politics of the 80s step further into the foreground, adding an extra dose of nostalgia. From the neon brights of the mall, the fairground, Eleven's entire wardrobe, plus, the iconic Never Ending Story cameo (a film
you already know I love
) in the final episode sent me OFF, bringing pure joy in a crucial moment of peril.
Favourite Scene.
Anything with Steve and Robin. A brilliant comedy duo eventually underpinned by genuine friendship and emotional connection. Let's also not forget Robin's coming out scene, played carefully and quietly, which ultimately made it all the more powerful.
If you haven't seen it yet, or just fancy another watch, check out the trailer for season 3 below.
Have you watched Stranger Things? What did you think?
Follow